The recent COVID-19 outbreak has caused immense disruption to businesses across the globe – and in some cases, irreparable damage. But for The Martin James Group, the clever use of data and digital platforms, alongside unwavering persistence, has meant we have been able to navigate the crisis and ride the bumpy wave.
From charities to leading technology brands, The Martin James Network consists of three groups of companies all with a shared vision of changing futures. Founded by Martin James Cockburn – or Jim, as he's commonly known – the network ranges from start-ups to well-established brands that have been in business for over 15 years.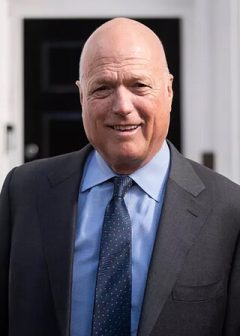 Like all businesses, the Martin James Network hasn't been able to completely avoid the impact and interruption felt by this unprecedented global pandemic. Yet, thanks to its existing innovations and the need for continued support from the markets it operates within, the network has been able to adapt and make the most of a potentially catastrophic situation.
Jim shares the network's learnings and successes from the last four weeks of this new business landscape:
Accelerating innovation
Over the last 12 months, the Martin James Network has developed and implemented a digital communication and engagement app called JiffyJab, which allows organisations to share information within their own private network. Having already been successfully adopted by a number of businesses, we are now offering the app to the care, charity and health sectors free of charge during the coronavirus crisis.
One of our brands, FosterTalk – a not-for-profit support service for foster carers – has also been working with internal partners to implement a new communication tool. Due to launch soon, the app will allow FosterTalk members to access advice and support, as well as chat in real-time to other foster carers at what is an extremely stressful and challenging time for them.
Responding to market needs
Our brand leaders across the network have been using this crisis to shape new ways of working, whilst responding to market needs. Life sciences company, Okra, is working to offer COVID-19 insights using transformative predictive AI technology. Our workplace mental health organisation, TalkOut, is offering more webinars and online training at a time when managing employee mental health remotely is crucial. Business support and IT brand, Anster, has been busy developing a family support package to help Local Authorities across the UK support more vulnerable families. And Intellect – our foster carer tax advice service – is supporting carers to unpick and understand the massive volume of information regarding self-employment.
Offering a helping hand
Our charity, the Martin James Foundation, supports vulnerable young people around the world and has stepped up during this crisis to launch an emergency appeal. It is also working closely with partners in Birmingham to support more vulnerable families within communities that need it.
Internally, the network's People team have launched a range of initiatives to boost morale and wellbeing, including wellbeing Wednesday, Sing-a-long Thursday, quiz nights on Friday, daily HIIT workouts on Facebook Live, and a Facebook group for employees needing to keep their kids entertained which has grown to nearly 4,000 members.
We are also hugely proud that we haven't had to furlough too many staff and any that have been, have had 100% of their salaries covered.
Crisis builds collaboration
In what is an unsettling and stressful time, our people have really stepped up to get employees and themselves through the upheaval. Whilst information and updates were always previously shared between brands, our network leaders are now having weekly virtual meetings so we can share ideas and concerns, as well as identify new ways to collaborate and support each other.
Our staff continue to support each other through candid and authentic communications via our internal communications app, JiffyJab, as well as through Zoom, Microsoft Teams and Slack.
Jim comments: "It could be very easy to be knocked back by a crisis like this but through collaborative effort and the commitment of each brand within the network, we've managed to explore new ways of working and meet market demands.
"Our focus has become sharper during these testing times and our network's mantra of 'connecting minds and shaping futures to transform lives' resonates now more than ever.
"We've learned that times of crisis and uncertainty can actually give us more courage and we believe that we will come out the end stronger and more resilient as a network."
Find out more about the Martin James Network here.